From the beginner to the professional the Elevation Training Mask will help push you to succeed and exceed your fitness goals. The Elevation Training Mask is approved to train for all sports that may be cardio dominate.
Training Mask 2.0
Training Aid to Increase Athletic Performance
Helps Athletes to Accelerate Post and In Workout Calorie Burn
Helps Improve Tolerance for High Intensity Exercise
Helps to Amplify Power Output When Exercising at Threshold Training Intensities
Facilitates Improvements in Endurance
Helps to Improve Anaerobic Threshold
The Science Behind The Mask
Multi-level resistance system reduces air flow through patent pending flux valve system. Training Mask 2.0 promotes increased lung capacity by forcing you to inhale fuller deeper breaths. When your body adapts to the resistance your lungs will be trained to take deeper breaths and use oxygen more efficiently. A short explanation of how this works is simple. When you breathe against resistance the lining in the lungs essentially stretches out allowing the alveoli's surface area to become "stretched" thus in return allows for more blood flow to the alveoli for more (oxygen transportation). When you increase "surface area" you increase red blood cell count that will be able to carry more oxygen out to the extremities.
"Breathing Resistances" are simulated resistances that are "maching" how hard it would actually be to breath in (3,000 ft | 6,000 ft | 9,000 ft | 12,000 ft | 15,000 ft | 18,000 ft in "ALTITUDE RESISTANCES".
Training Mask 2.0 does not "change on the o2 molecular level" however your body does make adaptations for this "Simulation" to be considered "Altitude Training" also known as the "BOHR EFFECT".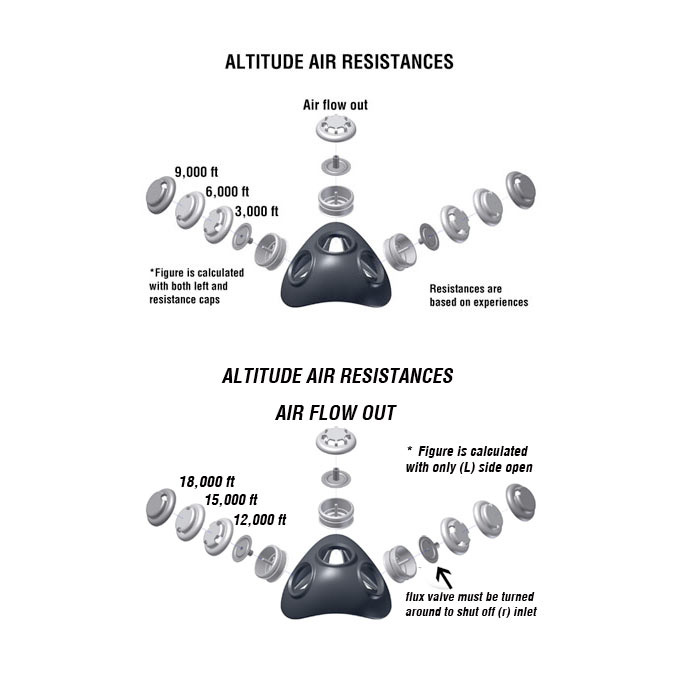 While using Training Mask 2.0 the conditioning of your lungs significantly increases along with endurance and diaphragm strength. Training Mask 2.0 will benefit your respiratory system as your overall cardio and endurance will improve with continued use.
Product Contains:
1 Contoured form fitted comfort sleeve
1 Patented Flux Valve Rebreather Apparatus
1 Training Mask 2.0 User's Manual
1 Overhead Mask Stabilizer Strap
6 Quick Change Snap on Resistance Caps, Providing 6 Graded Levels of Resistence
1 Certificate of Authenticity (Register here: www.real.trainingmask.com)
0

stars based on

0

reviews
0

stars based on

0

reviews